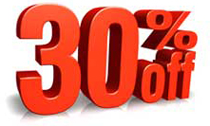 Save up to 30 percent on European Breakdown Cover when purchased with a car or van Warranty
find out more


What is NCT Failure Insurance
This product is designed to protect you from the cost of expensive repairs that might arise due to failures discovered during your next NCT. If your vehicle fails the test, simply fax or email a copy of your failure sheet to our claims department and we will cover the cost of repair for the components listed below.
This product is exclusively available through the Car Protect dealer network, or can be purchased online if you have purchased your vehicle from an authorised Car Protect dealer and you have an online voucher code.
Why Do I Need NCT Failure Insurance
In 2011 approx 49 per cent of vehicles (486,409) failed their NCT the first time round. The most common cause of failure was from the front suspension (info taken from NCT statistics www.nct.ie), where the majority of the components which make up the front suspension are covered under our NCT Failure Insurance policy.
Please see the full list of covered components below.
What Is Covered
Lighting Equipment

Headlamps

Side Lamps

Number Plate Illumination Lamps

Stop Lamps

Reverse Lamps

Auxilary Lamps

Rear Reflectors

Side Reflectors

Fog Lamps

Direction Indicator Relay

Hazard Warning Flasher Relay

Fog Lamp On/Off Indicator

Steering And Suspension

Steering Control

Steering Mechanism

Steering System

Transmission Shafts

Wheel Bearings

Drive Flanges

Front Suspension
Rear Suspension

Shock Absorbers

Track Road Ends

Suspension Springs

Wishbones

Swivel Joints

Suspension Mountings

Subframes

Brakes

Master Cylinder

Wheel Cylinders

Calipers

Load Compensator

ABS Modulator

ABS Sensors

Brake Servo

Brake Vacuum Pump

Brake Controls

Hoses and Cables

Seats And Seatbelts

Seats

Seatbelts
Pre-Tentionser

Seatbelt Mountings

General Components

Fuel Injection

Engine Management Unit

Sensor Replacement

Horn

Speedometer

Windscreen Wipers

Windscreen Washers

Bonnet Catch

Foot Catch

Door Catches

Window Lift Motor

Window Regulator

Door Mirror Glass

Engine Management

Fuel Injection

Engine Management

Fuel Injection

Engine Management